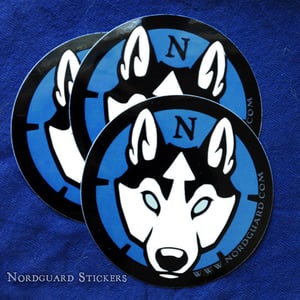 $

1.75
== Sold Out ==
I'm all out of the stickers for online sale! If you wanted one, don't worry! I will have some with me at RainFurrest in Seattle/Tacoma later this month, as well as MidwestFurfest in Chicago in November.
========

This circular vinyl sticker is 3" across and is great for indoor or outdoor use. The stickers are have a 3-5 year effective capability against any weather, and have a 100% clear gloss UV coating.
The sticker depicts the Nordguard logo, from the graphic novel trilogy by the same name. Perfect for vehicles, water bottles, laptops, snowboards, helmets, and just about any other flat surface!