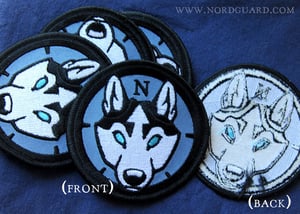 $

5.50
== Sold Out ==
I'm all out of the stickers for online sale! If you wanted one, don't worry! I will have some with me at RainFurrest in Seattle/Tacoma later this month, as well as MidwestFurfest in Chicago in November.
========

The circular patch is 50% embroidery, 3" across with a black merrowed edge.
This patch is based off the design of the Nordguard logo from the graphic novels of the same name. Sew it onto a jacket, a backpack, camera bag, or any other gear you might take adventuring!